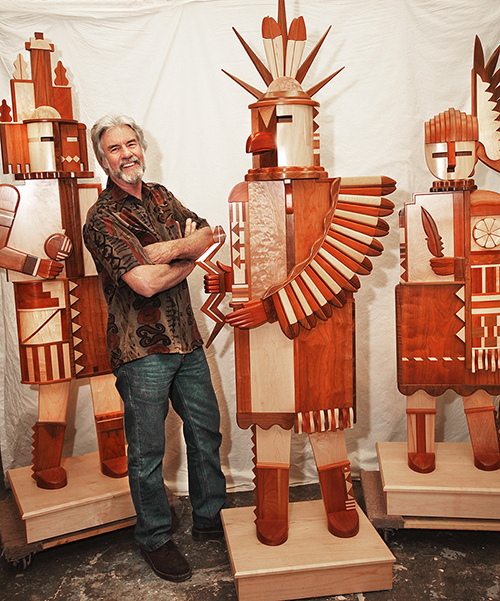 About the Artist
After graduating from Newark School of Fine and Industrial Art, Ray worked as a freelance illustrator in NYC and later began working as a character designer for Omega Productions, an animation and claymation studio, where he designed the cast of characters for "The Rev Ruff Show".

He later turned his efforts to cast paper and designed work for Austin Productions and Soroco in New York and Art Masters in L.A., California.

After moving from New Jersey to Santa Fe, New Mexico in 1992 he began designing and building fine custom furniture and continued painting and sculpting.

Today Ray's studio is mix of sawdust, from his furniture and wood sculpture, limestone dust from his stone sculpture and many works in progress on canvas, mostly large abstract paintings in either oil or acrylic.
Ray Fisher's Online Galleries
Click here to view Ray Fisher's artwork. Acrylic, oil on canvas, panel, or vinyl.
Click here to view Ray Fisher's most recent works. I like to think of my abstract oil and acrylic paintings as pure art, untainted by message or agenda.
Click here to view Ray Fisher's sculpture and accessories. The common thread in all of my wood sculptures has been blocks. Various species, usually left over from larger projects.